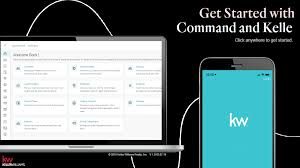 The tech-enabled agent demands that their technology not replace them, but help them be 'more' … more trusted, more present, more everything. Grab every opportunity. By joining forces with us, you'll gain access to a powerful, interconnected technology suite that helps you do just that. Join the revolution. It's time to take COMMAND.
Simply put, COMMAND is more than a CRM – it's a platform that puts you in control of your database, your business and your future. And, because COMMAND was built hand-in-hand with agents, it's designed to be used by agents. By you.
Real estate is about helping people with one of the most fundamental aspects of their lives, buying or selling a  home. And you are the expert they turn to. Not just when someone buys themselves, but before they fill in all the little spaces in between. So it can be frustrating when you don't have the time or technology to know when someone needs your help. And when you miss that opportunity, it creates a gap that someone or something else can step into. So let's close that gap and give you the time and technology you need to build high-quality relationships with more people. Let's join forces and demand our technology not replace us, but help us be more human and more present. More everything! Let's take COMMAND – built exclusively by and for Keller Williams agents.
COMMAND is just another reason to join KW, the #1 real estate company in the world!